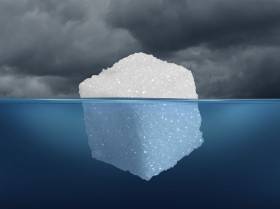 Why Your Doctor Isn't Telling You How to Do It, Instead Of Prescribing another Pill
A Bulletin from the Trenches
Diabetes is likely to be the biggest epidemic in human history. There are now 415 million people in the world with diabetes according to the International Diabetes Federation. The cost of keeping diabetes at bay, day in and day out, is also staggering.
But what if you learned to take control of your body and to defy type 2 diabetes without any medicine?
What if you could act instead of feeling helpless–for yourself or for someone you care about—after your doctor delivers the shocking type 2 diabetes diagnosis?
If you're like most people, chances are, you or someone you know is right now being treated for type 2 diabetes. But perhaps you don't have to. Learn from my experience.
Some people are good at looking the other way when their body tells them that something is wrong with them. I had being doing it successfully for quite some time, but come March of 2016, I could no longer ignore the fact that I wasn't feeling well. My doctor recommended an extensive blood test, which came back on March 10 and ruined my day (and much of my life after that). My fasting plasma glucose level (FPG) (affectionately called "blood sugar") was 312 mg/dl—way above the recommended level of 100—and my HbA1C (which tells you how your blood sugar level has been doing in the past three months or so) was at an astronomic 12.1% (the maximum recommended level of a healthy person being 5.7%).
With those numbers, I had to do something immediately, or I was in line for hideous diseases and premature death. My doctor immediately placed me on strong medication. As a result, only three months later, on June 21, 2016, my fasting blood sugar level had dropped to 138 mg/dl and my HbA1C to a mere 6%. That's great, right? Wrong!
Fast forward eight months to February 14, 2017. My fasting blood sugar level had gone up to 157 mg/dl, and my HbA1C to 6.8%. The efficacy of the treatment was obviously diminishing, and I started to recall people telling me that, once you start on the path of blood sugar medication, you may end up injecting insulin. I wasn't going to take that lying down.
When you become diabetic, you want to think that it is an Act of God, that you are not responsible for it. It's just the world being mean to you. But while obviously in some cases diabetes may be due to your genetic makeup or to other causes over which you have no control, that's untrue for most people. The reading and reasoning that I had done over the months since that fateful morning in March had convinced me that I had been causing it to myself with my own hands. I had been overeating and, what's worse, eating the wrong kinds of food. I was overweight and wasn't exercising enough. I reasoned that what I did to myself I might perhaps undo, if I could just find and follow the right path.
It took me five more months to prove that I was right and that managing my blood sugar level without taking drugs was possible. After stopping taking medication altogether for three and a half months (after a thorough, responsible, and careful priming period), I took a new blood test, on July 19, 2017. My fasting blood sugar was 102 mg/dl and my HbA1C was 5.8%. I'll say it again: I'm taking no medication!
I decided to make what I have learned available to others. I have shared my procedure and my detailed test results in my book, The Secret Life of Your Blood Sugar – A Diabetes Skeleton in Your Doctor's Closet.
I'm not going to tell you that what I did was easy and required no effort. But if you haven't ruined your pancreas for good and you follow my example with perseverance and motivation, you may be able to accomplish the same result that I did, or even better. Hundreds of people that I know of have done the same. This appears to be the best-kept secret of the medical profession: In the majority of cases you can rid yourself of type 2 diabetes.
That doesn't mean that at that point you will be able to start wolfing down sugar again like there's no tomorrow, mind you. It means that you can lead a satisfactory life, remaining mindful of what you eat and how you run your day, without feeling that you are missing out on anything.
If you have the will, the determination and the stamina needed to beat type 2 diabetes, fight back and get rid of it. And if you don't have them, go pop another pill and may God be with you, because if you don't help yourself, only He can help you.